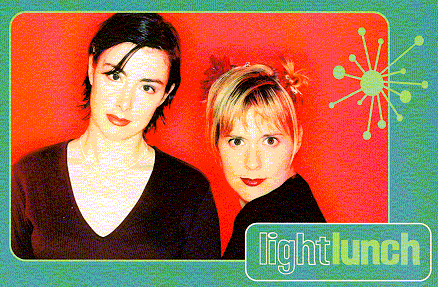 Watcha I'm Mel (Giedroyc on the right), Howdy I'm Sue (Perkins on the left).
Mel and Sue are the presenters of Light Lunch, some say they are a comedy partnership set to rival that of Vic and Bob, French and Saunders, Richard and Judy, need I go on.
Mel boasts an intimate knowledge of Leatherhead whilst Sue has an uncanny knack of mentioning Croydon during each show.
After meeting at Cambridge University Mel and Sue first appeared at the Edinburgh Festival. In 1993 their debut show titled 'The Naked Brunch' was widely acclaimed and started the comedy ball well and truly rolling. Appearances in 'French and Saunders' and 'The Vicar of Dibley' were only the first steps up the comedy ladder.
There appears to be no end to their talents, the second series of Light Lunch is well underway. Celebrities are literally queuing to appear in front of the cameras whilst followers of the show queue to be in the studio audience.
Not much new here, do you have more facts about Mel and Sue that might be of interest?